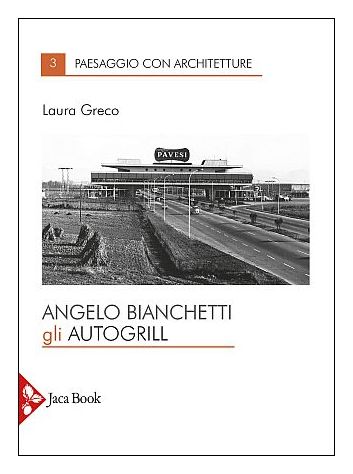 Publisher:


Jaca Book
Pages 160, 18x23 cm, colour
Available rights:
World
Sold rights:
Available
Laura Greco
architect, PhD in Architecture and Urban Planning is Associate Professor of Technical Architecture Design and Technological Design of Architecture
Gli Autogrill
by Laura Greco
The construction of the motorway network in post-World War II Italy provides the ideal setting for the long and fruitful collaboration between Mario Pavesi - head of one of the biggest brands in the Italian confectionery industry - and Angelo Bianchetti, the company's trusted designer. From the drawings and photos in the architect's archive, it was possible to analyse the key stages of the Pavesi Autogrill season. A repertoire of motorway refreshment points of the brand of the same name, highly original in structure and immediately becoming known as Autogrill and representative of motorway architecture in Italy. The study proposes an interpretation of Angelo Bianchetti's Autogrill, within the architect's cultural and professional history, taking into account three key themes
- the interaction between different scales and design domains - the architecture of the building, the design of the landscape and the transport infrastructure - of which the autogrill is a forerunner
- the typological invention combining side pavilions with bridges.
- the constructive challenge that engages Bianchetti in the definition of unique pieces.
Autogrill Pavesi points a typically Italian way to the exploration of a project theme that elsewhere is realised through standard formal and constructive systems.

Request further information about this book


Download book presentation